Ways To Making Money While You Sleep
For years I worked in print company in the South East of England. My hours were 6am to 6pm, 5 days a week and 6am to 2pm on Saturdays. I hardly ever saw my wife or young daughter. By the time I got home from work, she was fast asleep. I left far too early in the morning to see her wake.
As you can imagine, this made me feel like crap. I literally only had Sunday to spend time with my family and even then all I wanted to do was sleep.
I knew that I had to change my life and drastically. I needed more freedom, so the idea of passive income became very appealing to me. But the main thing I learned from creating passive income streams within affiliate marketing is that you have to WORK HARD to get them to that passive state.
My method of passive income that I chose was to start a blog, building up traffic through organic sources ( Google ) and then monetizing the site. This took me a long time to achieve, but when the money started coming in, I quit my job. My life could finally begin.
How Much Can You Realistically Earn?
Creating multiple income sources and ultimately creating a passive income isn't a short-term money making strategy. You need to think long term.
10 years on since I started my first blog, I am now making over $150,000 per month. It's taken me a decade to get where I am today. Please note that this is very rare to be able to make this much money from a passive affiliate income. I'm not blowing my own trumpet, but I am in the top 0.001% of affiliate marketers. This income is from multiple websites that I own.
But affiliate marketing isn't the only way you can make a passive income from. The vast majority of people who generate a passive income will generally obtain this via small amounts from multiple income sources. In this guide I will go through over 100 ways that you can make a passive income from either making money online or offline or both.
So what exactly is a Passive Income?
Passive income is where you get paid multiple times, over and over again for work you only did once.
An example would be if you were to write an ebook on How to Master Microsoft Excel and sold it to your email list or website's audience for $79. You would have made the time investment of say 200 hours writing this ebook, but it's soon paid back to you in sales. You sell 100 of these ebooks a month which net you a passive monthly income of $7900.
200 hours time investment = $7900 per month
Passive Income Ideas That You Can To Start Today
Before you read on, I just want to reiterate the importance of hard work and persistence. Passive income doesn't mean you don't have to work for it. Most of these ideas need your full attention and tenacity. Passive income only works if you do the hard graft initially. You need to choose the right passive income sources for you, as you will be investing your time and effort initially to get your income source flowing.
As I mentioned before, your time will be paid back to you.
Passive income is more common in network and affiliate marketing activities. That's what I will be touching on a lot in this guide, as its something I know a lot about. The opportunities out there to make residual income is phenomenal.
These passive income ideas are 100% legit. They all have the potential of providing you with a way to make money while you sleep, as well as being something that fits your personality, passions, experience, or skill-set.
All passive income streams will require you to invest one or both of these two elements.
1) An upfront monetary investment, or
2) An upfront time investment
Let's jump right in!
Start A Blog
Starting a blog is often one of the first things people do when they're trying to generate passive income. This is because blogs can be very flexible in its uses and purpose. While most people think of blogs as web diaries, they have evolved quite a bit since the infancy of the Internet. Today, blogs are important marketing tools that can generate income all on their own.
Setting up a blog is relatively simple. All you need is a blogging platform, such as WordPress, and a hosted domain. The costs of hosting a blog vary quite a bit based on the particular domain extension you have and the host itself. However, you can start a brand-new blog for only a few dollars a month. Once you have your website set up, you can start producing content and attracting your audience.
We highly recommend starting your blog with Bluehost . You can get up and running from just $2.95 p/m + you get a free domain name.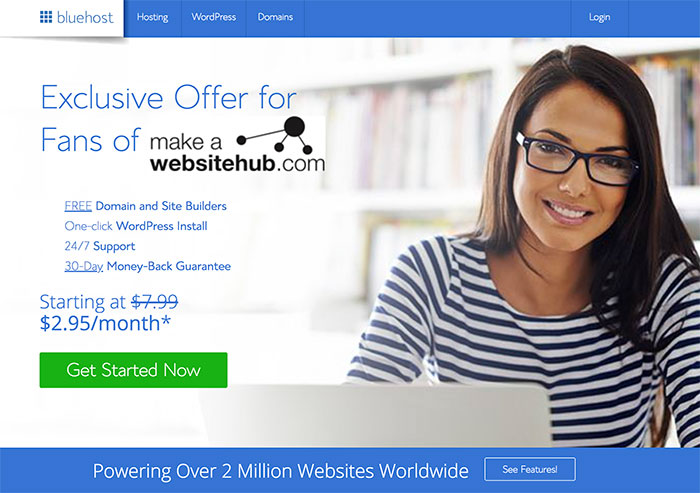 To maximize your earnings, you need to find an audience that stays with you and trusts your opinion. There are thousands of blogs about simple topics. The key to being successful is to find a suitable niche. The blogging world is vast and competitive. So, you're more likely to generate income if you have less competition in the digital space. Furthermore, you need to produce high-quality content on a regular basis to keep your readers engaged.
How Blogs Make Money
There are many ways that blogs can generate passive income. One of the most lucrative is through affiliate marketing. With affiliate marketing, you're essentially promoting products to your audience. If one of your readers buys a product through a promotion on your blog, you receive a commission.
You don't have to turn your blog into a promotional machine to take advantage of affiliate marketing. In fact, doing so would only turn your readers away. You can easily cater your content to include affiliate links and seamless promotions. Also, with the wide range of affiliate programs out there, you will never have to promote products you don't believe in. You can stick to products that you love and can honestly recommend to your audience.
Another source of income you can take advantage of is ad space. Google AdSense and Adsense alternatives will pay you to place digital advertisements on your blog. Typically, ad revenue is paid for every 1,000 impressions. If you have considerable traffic to your blog, ads can be a profitable option.
Of course, you can also use your blog to sell products directly to your readers. Many internet entrepreneurs choose to sell digital products, such as guides, eBooks, online courses, and videos. Whatever you decide to do with your blog, keep monetization in mind. As your blog grows and attracts an audience, your income potential will grow with it.
Invest in Crowdfunded Real Estate
The following two tabs change content below.
Jamie Spencer
My name is Jamie Spencer and I have spent the past 5 years building money making blogs. After growing tired of the 9-5, commuting and never seeing my family I decided that I wanted to make some changes and launched my first blog. Since then I have launched lots of successful niche blogs and after selling my survivalist blog I decided to teach other people how to do the same.
Latest posts by Jamie Spencer
(see all)